Koshary "Abu Daqqa" is one of the most Egyptian popular food; it considers low-cost food but contains high calories, because it contains onion, rice, pasta, Black lentils and tomato sauce.
Egyptian people cook them ingredients alone and add them in one plate after cooking.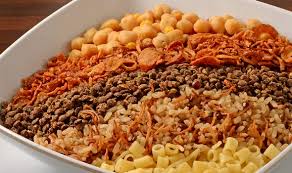 The first step is frying 2 onions in oil until having gold color.
Boil 1 cup of Black lentils in water and add salt and caraway to it.
Then add 1 cup of rice with the boiled lentils, mix them well, and wait for them until completely cooked.
Boil a little mount of pasta and sprinkle it.
Finally, bring a serving dish, put the rice with Black lentils, put the pasta,  put the tomato sauce, put the Fried Onions, and serve it hot.