By: Tamer Afandi
Photo: Maher Attar, Mazen Hamed
Egyptian farmers still believe in a legend about the Nile claiming that it comes from Paradise. They also think that it is a lasting divine gift till doomsday. Accordingly, they are linked to it in an eternal and body-soul relationship. Though urban wave swept through some villages, yet they are still glued to its old traditional life once flourished along the banks of such a great river…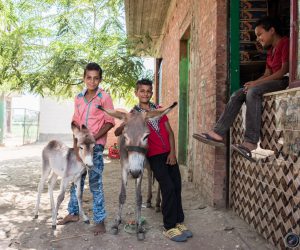 When the call to prayer at dawn wake up the peasants, they rush to perform their ritual ablution out of The Nile fresh water. Upon finishing their prayers, they step into their cattle fold spurring them to the fields.
It is high time for their daily routine work…In their simple galabias "traditional peasant dresses' and special shoes they drag their animals to the agricultural fields.As soon as they finish gathering cattle, they collect the leaves of the trees and burn them in what is known as " rakwaa" or a bunch of burnt branches..They put a teapot on such a small fire and sip the most tasteful tea that you ever drink..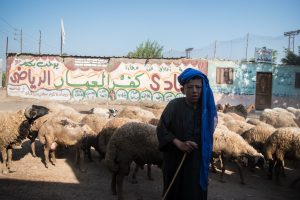 Under the shadows of the raspberry trees, they open a large handkerchief in which they wrap their usual breakfast of cottage cheese and baked cornbread. Such a bread is made of the last year corn harvest which is grinned into flour..The baking process is done by
Old village ladies with their yeast touch which finally gives the most delicious bread worldwide.
Upon finishing breakfast they took off their galabias, tighten their waists with a woolen belt and take their axes to make their livelihood.
During the 1970s, despite substantial investment in land reclamation, agriculture lost its position as the dominant economic sector. Agricultural exports, which accounted for 87% of all merchandise export value in 1960, fell to 35% in 1974 and to 11% by 2001. In 2000, agriculture accounted for 17% of GDP and 34% of employment.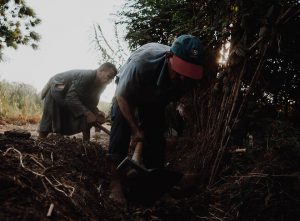 Cotton has been the staple crop, but it is no longer important as an export. Production in 1999 was 243,000 tons. Egypt is also a substantial producer of wheat, corn, sugarcane, fruit and vegetables, fodder, and rice; substantial quantities of wheat are also imported despite increases in yield since 1970, and significant quantities of rice are exported. Citrus, dates, and grapes are the principal fruits by acreage. Agricultural output in tons in 1999 included corn, 9,350,000; wheat, 6,347,000; rice, 5,816,000; potatoes, 1,900,000; and oranges, 1,525,000. The government exercises a substantial degree of control over agriculture, not only to ensure the best use of irrigation water but also to limit the planting of cotton in favor of food grains. However, the government's ability to achieve this objective is limited by crop rotational constraints.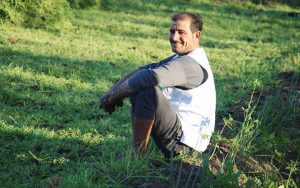 Egypt's arable area totals about 3.3 million hectares (8.1 million acres), about one-quarter of which is land reclaimed from the desert. However, the reclaimed lands only add 7% to the total value of agricultural production. Even though only 3% of the land is arable, it is extremely productive and can be cropped two or even three times per year. Most land is cropped at least twice a year, but agricultural productivity is limited by salinity, which afflicts an estimated 35% of cultivated land, and drainage problems.
Irrigation plays a major role in a country the very livelihood of which depends upon a single river. Most ambitious of all the irrigation projects is that of the Aswan High Dam, completed in 1971. A report published in March 1975 by the National Council for Production and Economic Affairs indicated that the dam had proved successful in controlling floodwaters and ensuring continuous water supplies, but that water consumption had been excessive and would have to be controlled.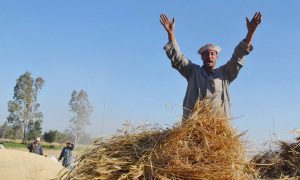 Some valuable land was lost below the dam because the flow of Nile silt was stopped, and increased salinity remains a problem. Further, five years of drought in the Ethiopian highlands—the source of the Nile River's water—caused the water level of Lake Nasser, the Aswan High Dam's reservoir, to drop to the lowest level ever in 1987. In 1996, however, the level of water behind the High Dam and in Lake Nasser reached the highest level since the completion of the dam. Despite this unusual abundance of water supply, Egypt can only utilize 55.5 billion cu m (1.96 trillion cu ft) annually, according to the Nile Basin Agreement signed in 1959 between Egypt and Sudan.Now, this quota is gravely threatened by The Ethiopian dam which threatens Egypt with draught.