Ethiopian Foreign Minister Workneh Gebeyehu said that the historic agreement between Ethiopia and Eritrea is a result of the efforts made by Crown Prince of Abu Dhabi Sheikh Mohammed bin Zayed Al Nahyan.
The historic reconciliation between Ethiopia and Eritrea ended a 20-year conflict after the signing of the Asmara Declaration to start a new era of peace and friendship under the sponsorship of the United Arab Emirates. The declaration resulted in the announcement by Ethiopian Prime Minister Abiy Ahmed and Eritrean President Isaias Afwerki of the need to normalize relations and open the border between the two countries as well as carry out joint development of Eritrean ports on the Red Sea.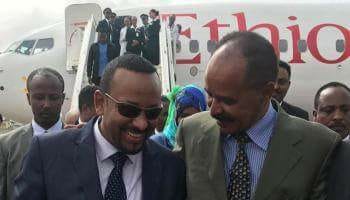 On July 9, 2018, Ethiopian Prime Minister Ahmed signed with Eritrean President Afwerki the Asmara Declaration to usher into a new era of bilateral relations. The agreement included the need to normalize relations between the two countries with the later opening of the border in addition to Ethiopia's withdrawal from the areas it controls.
The declaration also included the restoration of telephone communications and air links and the approval that Ethiopia, which does not have access to water features, would use the Eritrean ports overlooking the Red Sea. That was confirmed by Ethiopia's Fana Broadcasting Corporation which said: "Ethiopia and Eritrea will develop together Eritrean ports on the Red Sea."
Relations between Ethiopia and Eritrea have long been marked by long-term hostilities, most notably in May 1998, known as the Badme War, a reference to the Badme border triangle, which includes three areas of Badme, Tsurna and Yuri.