Anger poured in from across the Muslim world Thursday after the President Donald Trump said the United States recognizes Jerusalem as Israel's capital, a move that Arab and European leaders have warned could spark violence and destroy any hopes of reviving the Mideast peace process.
The Region faces upheaval as Palestinian Authority leader Mahmoud Abbas decries U.S. decision on Jerusalem as "deliberate undermining of all peace efforts".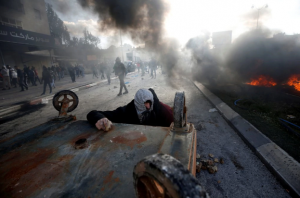 In the Gaza Strip and the Occupied West Bank, Friday has been declared a "day of rage" for Palestinians, while Ismail Haniyah, leader of the Hamas government in Gaza, said now was the time for a Third Intifada across the occupied territories.
The Israeli military responded to protests near Ramallah in the West Bank by firing tear gas and stun grenades at demonstrators, and prepared for an expected increase in violence in the coming days by ramping up its presence in the West Bank. Dozens of protesters were injured in clashes on Thursday.
In the next Friday, the Muslim holy day, could provide an important test when Palestinians gather for weekly mass prayers.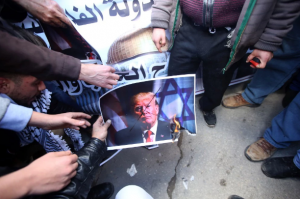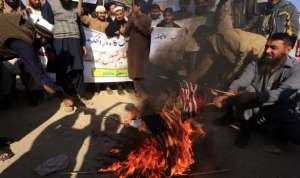 American flags were burned at protests outside the U.S. Consulate in Istanbul and in Cairo and Gaza City late Wednesday, while Iraq on Thursday summoned the U.S. ambassador in Baghdad over the issue.
In the Baqaa refugee camp on Amman's outskirts, hundreds of Palestinians roamed the streets overnight, denouncing Trump and urging Jordan to scrap its 1994 peace treaty with Israel. "Down with America … America is the mother of terror," they chanted.
Israel's security force, the IDF, sent reinforcements to the West Bank as part of "readiness to possible developments" in response to the decision, while the Palestinians burned photos of Trump in Gaza.