By: Tamer Afandi
Kunle Adewale: The fourth global cohort comprises over 1,000 arts practitioners in medicine from 40 countries
Kunle Adewale, the founder and executive director of the Global Fellowship in Medical Arts program, which originated in Lagos, Nigeria, says, "The Fellowship in Medical Arts (GAIMF) program was established to bridge the gap between the arts and healthcare system." The first cohort was locally launched in Lagos, Nigeria, in 2018, and after three years, it was launched globally in collaboration with Dr. Manal Alioua, a consultant in art therapy, under her supervision.
He continued, "The Global Fellowship in Medical Arts program is open to students in higher education institutions and specialists worldwide, including artists, musicians, writers, poets, theater artists, social workers, dancers, medical professionals, administrators, researchers, doctors, teachers, policymakers, business people, mental health and wellness advocates."
He added, "Today, the global program for the Fellowship in Medical Arts is holding its seventh cohort in general, and the fourth global cohort in spring 2023, with a global community comprising over 1,000 arts practitioners in medicine from 40 countries, working to bridge the gap between arts, health, and well-being. The fellowship operates in a hybrid manner over a period of 14 weeks, mostly on weekends, covering the following topics in the Global Fellowship in Medical Arts program: 'Introduction to Arts in Health, Leadership in Arts in Health, Developing Art-Based Interventions, Design Thinking, Health Innovation, Creative Thinking and Practices encompassing visual and performing arts: drawing, dance, movement therapy.' The culmination of the fellowship is the Arts in Health Festival."
Dr. Manal Alioua: Implementation of Over 30 Workshops on Creative, Expressive, and Visual Arts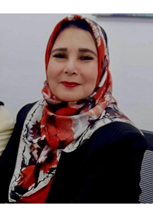 Dr. Manal Alioua, a board member of the Global Fellowship in Medical Arts program, states, "The number of Egyptian applicants was 48 in 2021, 50 in Spring 2022, 25 in Autumn 2022, and 42 in 2023. Among these applicants, only 39 graduated in 2021, 28 in 2022, and 30 in May 2023 as practicing fellows in the medical arts, awaiting the announcement of the new cohort in June 2023."
She added, "The Egyptian Festival project for the second cohort was implemented at the Burj Al Arab University Hospital (BAUH), a university hospital serving nearly 18 million people in northern Egypt, including the provinces of Matrouh, Alexandria, Kafr El-Sheikh, and El Beheira."
She further explained, "The project idea was divided into teams, represented by the brush and color shades symbolizing the interventions, the ballet dancer and the boy symbolizing movement, indicating the diversity of movements performed during the sessions; the writing symbolizing the interplay of letters expressing the feelings of children and the medical staff in the sessions; singing and playing represented by the microphone and musical symbols. All symbols were compiled into the form of wings to express art that has wings. They revealed the protagonist in each child's life, in addition to the parents and the medical staff."
She emphasized, "Over 30 workshops on creative, expressive, and visual arts were conducted on-site at the Burj Al Arab University Hospital (BAUH). 'Art Has Wings' succeeded in transforming the environment of the Children's Cancer Treatment Center (BAUH) from pain and illness to optimism and hope. The Egyptian team of the Global Fellowship in Medical Arts successfully conducted six therapeutic art workshops in their project 'Fibromyalgia, Art, and I am Egypt' within medical interventions."
She stated, "The project idea was divided into different categories for implementing visual arts, using salt art to recreate the project logo symbolizing a person with wings reaching towards the sky, learning to fly as a symbol of overcoming chronic pain and communicating hope. This symbolism relates to participants with fibromyalgia and their ongoing battle with chronic pain. Performance arts utilized psychological drama as a means of expression, while art journals focused on reflecting and expressing participants' emotions. Clay sculpture and jewelry making were used as a means of expression to release negative emotions and meanings for the participants."
The project "Fibromyalgia, Art, and I am Egypt" served as a significant incentive to provide artistic health interventions for the fibromyalgia community, which is in dire need of support due to the lack of awareness about the disorder in Egypt. The project had a remarkable impact on improving the mental, physical, and emotional well-being of fibromyalgia patients and their community. "Fibromyalgia, Art, and I am Egypt" successfully provided health interventions and raised awareness for the public's benefit and will continue spreading hope and light for the entire fibromyalgia community.
Dr. Ghada Abdelrahim: Mozart's Music Managed to Rescue Soldiers from the Trenches of Depression
Dr. Ghada Abdelrahim, a psychology professor at Cairo University and a certified art therapist, says, "People used to believe that art therapy was merely for entertainment purposes, but when the fields of medicine and arts came together, a significant harmony emerged, highlighting the importance of this field that has proven, through experience, the contribution of art in treating various illnesses and supporting medicine. The Fellowship Program provided me with diverse experiences and cultures, as it included individuals from more than 40 countries, each expressing their identity and culture. Our project, as a team from Egypt in the Fellowship Program, focused on patients suffering from fibromyalgia. The workshops were able to positively impact these patients by reducing pain and ending the state of depression. We hope to continue our project in the coming period."
She continues, "I strongly believe in the importance of art in treating many diseases. In World War II, music was the solution as medications couldn't silence the pain. The English rushed to treat soldiers psychologically in specialized centers that combined musical instruments and vocal sounds, which helped in the healing process of the wounded from the effects of psychological warfare."
She adds, "Mozart, through his music, managed to lift soldiers out of the trenches of depression, and the United Nations had no choice but to resort to music therapy to help children overcome the traumas of war. They implemented the 'My Music' program, the first of its kind in the world, in Syrian refugee camps in Jordan."
In early 2018, the "My Music" program was launched in the Zaatari and Azraq refugee camps, filled with anguish and sighs. A desert consuming the remnants of the soul, where 80,000 Syrians fled from the ongoing conflict that has lasted for eight years in their homeland. Children's hands eagerly beat drums and played the flute, and the spirit found solace, bringing back smiles from exile, as the children forgot their pain and began to feel hopeful.
Safiya Youssef Abbas: Learning that Collaborative Work Enhances Creative Opportunities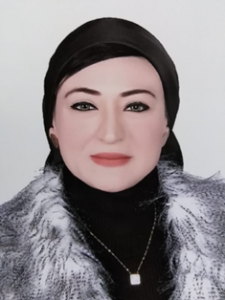 Regarding her participation in the fourth cohort, Safiya Youssef Abbas stated, "It was an exciting and wonderful journey through the International Fellowship Program in Arts in Medicine. I gained numerous valuable experiences and skills regarding art therapy as a form of psychological treatment that combines the power and principles of medical therapy with the influence of art. Its concept revolves around utilizing creative methods to improve the mental health of patients, helping them express themselves and deal with emotional situations. Art therapy also assists in learning how to heal from past traumas and find inner beauty within oneself."
She concluded, "I learned that collaborative work enhances opportunities for communication and creativity while reducing stress, fear, and negative emotions. It was a hands-on experience that helped us create art together, guiding us to participate and contribute to the promotion of arts in healthcare through various creative and artistic activities."
Nahla Essam Eldin Abdul Fattah: Art Therapy Helps Us Understand and Engage with Ourselves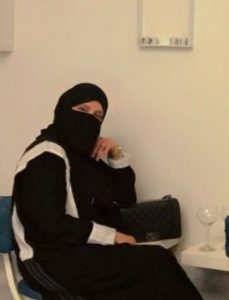 "I feel proud and grateful to have been part of this cohort of the International Fellowship Program in Arts in Medicine. It was a fantastic beginning where I learned how to integrate various forms of art in supporting patients and the elderly, and how to incorporate artistic work and the spirit of art into our daily lives, both personally and professionally. Art has the ability to serve as a support for many cases. It is not merely a source of aesthetic value that adds a touch of pleasure and mental clarity to our lives, away from life's troubles. Rather, it is a delicate bridge that willingly transports us to our inner selves, enabling us to better understand and genuinely connect with them."
She continued, "Art possesses the power to expand our capabilities beyond what we were born with. It liberates us from weaknesses, and undoubtedly, life becomes easier then. Art is the key to any breakthrough or success for human beings. Despite our pursuit of self-understanding, only a few succeed in truly comprehending it. Here, the role of art emerges in helping us understand and engage with ourselves, thus enabling us to communicate with others."
Sara Abdul Rahman: Art has become a recognized method for treating numerous diseases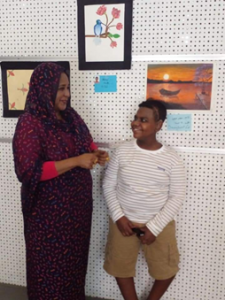 Sara Abdul Rahman, a certified practitioner of arts in medicine from the May 2023 cohort, said, "I am from Sudan and I have been striving to register since the second cohort, but luck was only on my side this year with quick and clear procedures. It turned out to be exactly as I wished, surpassing all my expectations. I have gained a wealth of knowledge and skills that truly enhance our capabilities. Art has always been a means of expressing emotions and ideas, and as time passes and science and medicine evolve, it has recently become a recognized method for treating a wide range of diseases. Art plays a crucial role in instilling hope and the ability to see the beauty around us."
She continued, "Art is an effective therapy for those who do not appreciate themselves enough. Those who engage in art or even simply immerse themselves in appropriate doses of it become more capable of looking at themselves positively. Perhaps it's because they become more in touch with their humanity. This is where we discover that the arts have deeper and more intimate purposes beyond the fleeting moments of happiness they bring us when we practice or experience their wonders. They transcend that role to become one of the most important means on which we can rely in treating many of our psychological and physical pains and concerns."
Nesreen Ilhami: Art therapy is a form of psychological treatment that combines the power and principles of medical therapy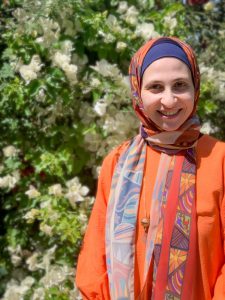 Nesreen Ilhami, a certified practitioner of arts in medicine, says, "The Arts and Medicine Fellowship program is not just an ordinary training program, but for me, it is a completely different life experience from all the experiences I have gone through. It is a rich experience with diverse training modules, activities, and a variety of scientific and practical backgrounds among the trainees. Throughout the 14 weeks, we have gained numerous experiences."
She continued, "Our graduation project focused on fibromyalgia and the arts, illustrating that the arts are not merely a luxury but a therapeutic tool for the soul, acting as a delicate, gentle, and powerful bridge. It transports us to worlds filled with beauty, mental clarity, and the ability to heal. Art therapy is the field that utilizes artistic activities for expressive, cathartic, and diagnostic purposes. Art is a unique language that allows individuals to express components of themselves that they may struggle to articulate verbally. It employs creative techniques such as drawing, coloring, crafts, with the aim of helping people express themselves artistically."
Dr. Taqwa Osama: Art is a language of human expression and a medium for self-discovery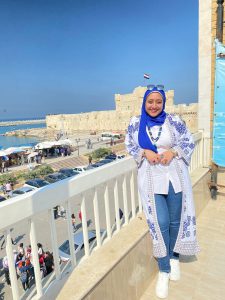 Dr. Taqwa Osama, a certified practitioner of arts in medicine from the May 2023 batch, says, "My participation in the fellowship was a unique experience, allowing me to explore the role of art therapy in medicine across its various domains. Implementing it with patients and witnessing its astonishing results and their positive response has provided me with valuable experience in the field of art therapy and its different forms. The fellowship also gave me the opportunity to closely interact with diverse cultures."
She added, "Art therapy has numerous important therapeutic benefits. It serves as a means of self-expression, communication, and social interaction. Additionally, it contributes to reducing feelings of isolation, psychological disorders, distress, and depression. It is considered an alternative to traditional psychotherapy. Art therapy has gained popularity in recent times because it helps patients channel negative energies, confront emotional and psychological challenges, and improve their physical and mental well-being. This therapeutic psychological approach is based on the idea that art is a language of human expression and a medium for self-discovery, especially for those who struggle to process or convey their thoughts and emotions."
Ghada Abdel Rahman Bendari: I cannot count the experiences I gained from this wonderful experience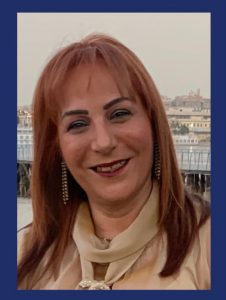 Ghada Abdel Rahman Bendari, a certified practitioner of arts in medicine from the May 2023 batch, says, "I had the honor of applying for and being accepted into the International Fellowship in Arts in Medicine. It was a fantastic experience. I attended all the lectures and served as an artistic assistant to the leader. I also worked on a project designing accessories in Cairo. I cannot count the experiences I gained from this wonderful experience, and I would like to express my gratitude to all the organizers for their assistance and expertise they provided us."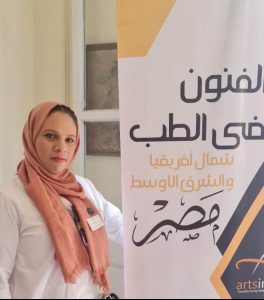 Name: Sara Nasar, Dream: Healing Artist, Touching the Hearts of Dreamers, Title: Certified Practitioner of Arts and Medicine.
Graduate of the Arts and Medicine Fellowship, Class of 2022, currently serving as an Assistant Coordinator for the Arts and Medicine Fellowship in the Middle East
When art decided to draw near and approach me with a whisper and a promise, it revealed that it has the power to mend the shattered dreams of health and recovery. It can touch the eyes and souls of patients, even if the whole world declares that there is no place for them here. The fellowship has provided me with incredible experiences and expertise, collaborating with esteemed colleagues and professors from various corners of the Earth. Most importantly, it has allowed me to meet successful partners and friends.
I am also conducting research for my doctoral thesis on human responses under the influence of artistic elements. I have conducted experimental studies ranging from children with autism and learning difficulties to individuals facing psychological and mental challenges, including the residents of Al-Abbasiya Hospital and the resilient ones on the journey of addiction. My wish is for everyone to enjoy mental and psychological well-being, creativity, innovation, and happiness.
It is worth mentioning that several certified practitioners of arts have participated in previous batches of the fellowship, including Basant Khalil, certified practitioner of arts in medicine, Class of 2, Gehan Ayoub, certified practitioner of arts in medicine, Class of 3, Dr. Noha Ali, certified practitioner of arts in medicine, Class of 1, Sarah El Sherbiny, certified practitioner of arts in medicine, Class of 3, and Engineer Sara Nasar, certified practitioner of arts in medicine, Class of 2. All of them are assistant coordinators of the fellowship team in Egypt.