Shahenda Abdul Rahim
Amr Warda, Egyptian football player for the national team and the Greek club PAOK, is living a new crisis following new accusations of harassment, where a Greek girl named Faidra claimed that she was harassed by the player via Instagram.
Faidra published some audio recordings and messages on Instagram, which she says are from Egyptian soccer player Amr Warda, with the hashtag "Amr Warda is a harasser". She said that the Egyptian star also asked another girl to go the hotel as his wife.
As for the video messages presented by Faidra, they included Warda threatening her with searching for her and her family in her city, and he called her a prostitute when she refused to go to his home in Greece on the grounds that he did not know her enough to talk about such matters with her.
Meanwhile, Warda responded to the accusations by Faidra, saying, "I do not have any accounts on social media, and my accounts have been hacked for more than a month and a half. Today I have a match in the Greek Cup. Let me play."
Al-Bawaba News contacted Faidra to get acquainted with the facts and details. Following is the edited, translated conversation.
Tell me your name, your age, and your nationality.
My name is Faidra. I am 23 years old and Greek by nationality.
Your photos and your Instagram account have spread recently after accusations of harassment against Amr Warda. What are the details?
In the beginning things were normal on my account on Instagram, until I was harassed by Egyptian international player Amr Warda, who disturbed me, asked me to go to his house, and sent me sexual conversations, which forced me to move against this immoral position.
How did the relationship between you begin?
Warda started correspondence with me three years ago when he asked me to go to his house. I refused, and when I did not fulfill his request, he called me a "bitch" and banned me from Instagram after that. The second time, he decided to text me through Snapchat and asked to meet me again. But I refused, and then he asked me whether I had sex in the past with someone. Then I told him yes, in an attempt to avoid him, and he started calling me a "bitch" again and banned me again. After that I found him appearing again on Instagram, and this time I wanted to respond to everything, so I sent him a voice message and said to him, "You do not know who I am. You do not have the right to talk to me in this way. Now you have a girlfriend, so why do you insist on writing me. When you call me a prostitute, I want you to know that I see you as an idiot." Then he threatened and blackmailed me, and literally told me, "I will come to your city and find you and your parents, and I will tell them everything, and I will tell your mutual friends on Instagram." So my response to him was only, "You have no evidence against me, and I have nothing to hide."
After that, what happened?
Honestly, I do not understand him yet, as you know that Warda is an international player who lives in Europe and has a background on the thinking of European girls, as if every girl he wants will fulfill his orders as a professional footballer in Europe.
In your opinion, why did Warda use this method to threaten you?
I am not afraid of anything. He does not know me. It is a strange thing to threaten and blackmail me, so for me he is a sick person.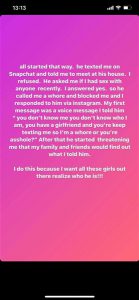 Why did you decide to publish this story at the present time, after three years?
Three years ago I was young, and I told myself I will forget this, but now I am 23 years old and thinking more seriously and clearly, and it is important for me to share my story with other women. And I found other women who have had the same experience as mine. There are Greek women who texted and told me that I'm right and made the right decision, since they went through the same experience as me. I also spoke with Merhan Keller, the Egyptian girl who went through the same experience with Warda in 2019 during the African Cup of Nations in Egypt, and she advised me and said, "You must be strong. The confrontation should start now. Share your story and people will know it, and I'm really grateful for it."
You said that Merhan Keller supported you and encouraged you to publish your story. Tell me about your story with her.
The second time Amr Warda harassed me, I decided to look for other women who had gone through my experience and found her, so I read her story and admired her courage and corresponded with her. I told her my story, and she advised me not to be afraid and to publish my story, as people must know the truth.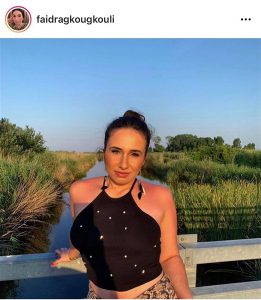 Why did you decide to publish your story on social media, without resorting to the courts?
To be honest with you, in the beginning, I did not intend to do that, but Merhan was the one who helped me a lot and encouraged me to share it with the general public on social media, because I do not know whether it is possible to submit this to the Greek court or not, so she chose social media.
After the story has spread, are you ready to turn its facts into a case?
Certainly, I am ready to defend myself.
What is your message to Amr Warda?
First, do not try to pretend to be a genius trying to find different excuses. You must respect women. You have a mother and you have a sister. This is my message: to respect women.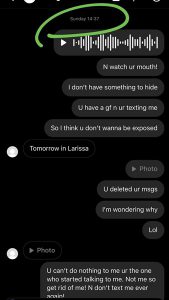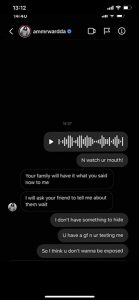 What do you have to say about Amr Warda's reaction to the media after publishing your story?
At the beginning, Warda said, "My account has been hacked for a month and a half… Let me play." As for my response to him, if you are a real professional footballer, then I am sure that you will not be this person that you are now. It's not just me who accuses you of that; there are Merhan and other girls with us, not just us. Maybe your fault is you and you shouldn't play football.