Shahenda Abdel Rahim
With the escalation of Ahmed Bassam Zaki's streak of assault and rape, a renewed wave of support has manifested itself within various institutes and bodies in Egypt.
Zaki has become Egypt's most famous sexual predator, having made headlines across the Arab country in the past few days.
Zaki's news keeps riveting the attention of social media users everywhere. A hashtag carrying his name outrivaled all others on Twitter last week. This hashtag included horrifying stories of sexual harassment, turning his violations into a public opinion case.
Zaki, now in temporary detention, faces charges of raping three girls and showing contempt for the values of the Egyptian society.
Indeed, only mere days after claims of the perpetrator's crimes were highlighted on social media, Al-Bawabhnews published the actions taken against Zaki by EU Business School.
Today, Shahenda Abdelrahim interviews Sabah Khodir, who has highlighted all support to victims of sexual assaults, particularly encouraging them to report the crimes.
Khodir also rejected victim blaming, which is a common narrative in Egypt where women are most criticized for their attire or for leading a 'permissive' lifestyle.
In light of Al-Bawabhnews' belief in necessity of raising awareness among young women regarding their rights as well as possible legal support, promoting social cultures, with a focus on encouraging dialogue within families, and properly portraying harassers and harassment in media, we presented this interview to the readers hoping it will help to reveal the truth and alleviate the suffering of the victims.
As the investigation continues, all testimonials are welcomed against Zaki, and victims willing to come forward can contact the National Council of Women or message Khodir on her Instagram account to be connected with lawyers.
The shocking case, which saw the involvement of young activist and writer Sabah Khodir, the National Council of Women, an Instagram account gathering testimonials against Ahmed Bassam Zaki, the American University in Cairo, as well the Egyptian Prosecution office, sparked fierce social media support towards victims of harassment and rape in the country.
Egyptian authorities arrested Zaki, following his accusation by over 100 women of sexual misconduct, rape and blackmail.
The accusations brought against Zaki were not just limited to Egyptians, since he was also accused by classmates at a university he attended in Barcelona of similar acts of sexual misconduct.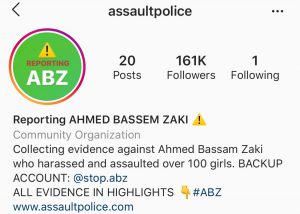 The interview Full text:
Initially, who are you?
Sabah Khodir, 29 years old, an activist for women's rights. I have written about violence and rape that a woman faces.
I live in Egypt for a long time. I run an online platform called End Quote dedicated to showcasing the work and the talent of Middle Eastern artists.
Young Arab women make up most of this busy site's followers. Speaking to Al-Bawabhnews, she states that "many women find themselves ready for a gender revolution".
Most of Sabah's own poetry is based on how women are treated as "second-class citizens in their own countries".
Sabah's work subjects her to lots of abuse online. One message she recently received, stated that "if I see you on the street I will rape you. Because look at the way you're dressed and look at what you're instigating. Girls like you are the reason why other women get raped."
In this respect, her experience is the same experience as many other Egyptian women.
I am a particularly strong-willed and determined person intolerant of injustice.
Where did you born and when you move to Egypt?
I was born in USA, and moved to Egypt after 11 years. I stayed in Egypt for some time than go back to USA, I hardly learn Arabic because it is a difficult language.
What did you study?
I studied writing at a university in USA and studied psychology besides writing.
I had to read psychology books besides my studies for writing.
Psychology helped me to express my opinions, thoughts.
Why do you just interest in the case of Ahmed Zaki?
We launched a campaign against Ahmed Zaki, who has had tens and tens of girls come forward with assault claims since the beginning of the post was posted on Instagram.
As you know, women in Egypt do not have the privilege of being harassed and heard. We do not always have the privilege to have a man force himself onto our bodies and demand justice.
The last days, we have seen that begin to happen. People want to see change. We want to see men who hurt women held accountable for words, weapons, and actions used to degrade women.
We are more than half the nation of Egypt. More than half of the country is asking to be heard, today, now that you've heard us.
People keep confident in me because they were following my Facebook page from the first thing I started to write.
I was talking about harassment, even with Ahmed Zaki, i sympathize with him, but he must be imprisoned.
I do not hate him or I want him to be exalted or I want him to die but Egyptian law have to protect girls.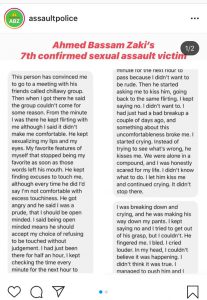 When did Ahmed Zaki's story begin?
The allegations against Ahmed Bassam Zaki, an Egyptian who graduated from high-school in Cairo in 2016, were first shared by a female American University in Cairo (AUC) student in 2018. The woman, whose name Egyptian Streets has chosen not to disclose for her safety and privacy, accused Zaki of harassing her and her friends, posting an account of her experiences on the Facebook group "rate auc professors", a group that is not officially associated with the AUC or its administration.
The post on "rate auc professors" attracted thousands of comments before suddenly being deleted by administrators of the group earlier this week, two years later.
The first public allegations against Zaki were made in 2016, when Zaki was a senior at the American International School (AIS) in Cairo, a school he had attended between 2015 and 2016 before his graduating and commencing studies at AUC.
Zaki has been accused of using various tactics to lure his victims or to otherwise force them to act against their will.
One widely shared, and graphic, account was posted by assaultpolice and details Zaki luring his victim to meet him under the pretense that it was a gathering with a larger friendship group of his:
This person has convinced me to go to a meeting with his friends called chillawy group. Then when I got there he said the group couldn't come for some reason.
From the minute I was there he kept flirting with me although I said it didn't make me comfortable. He kept seuxalizing my lips and my eyes. My favourite features of myself that stopped being my favorite as soon as those words left his mouth.
He kept finding excuses to touch me, although every time he did, I'd say I'm not comfortable with excess touchiness. He got angry and he said I was a prude, that I should be open minded…
Then he started asking me to kiss him, going back to the same flirting. I kept saying no. I didn't want to. I had just had a bad breakup a couple of days ago, and something about this uncomfortableness broke me. I started crying. Instead of trying to see what's wrong, he kisses me. We were alone in a compound and I was honestly scared for my life. I didn't know what to do. I let him kiss me and continued crying. It didn't stop there.
I was breaking down and crying, and he was making his way down my pants. I kept saying no and I tried to get out of his grasp, but I couldn't. He fingered me. I bled. I cried louder. In my head I couldn't believe it was happening. I didn't think it was true.
I managed to push him and I told him off, he said he wants to continue until he comes so that he 'doesn't get blue balls' and asked me, the f*****g audacity, to just stand still so that he could think about me while he masturbates."
Voice recordings shared by one woman to assaultpolice allegedly captures Zaki threatening to "go straight to her sister".
"If you didn't answer this phone call I would've gone [sic] straight to your sister, be like, 'yo, khaleeha tekalemni' (let her call me), and if you don't, I'll be sending her shit 3alatool (right away). Like yo, take this.
I know I'm such a bitch. But you're a whore. And you're gonna get down on your knees and suck my c**k for me to shut up about it. So, are you gonna suck my c**k or should I tell your sister.
Alright, so think about it. Do you wanna be a sl*t again, or do you wanna be a f*****g outlaw? Think about coming.
Dozens of other similar stories and accounts have been shared by women in Egypt and in Spain, where Zaki is enrolled at EU Business School Barcelona.
These stories range from accounts of rape, sexual assault and sexual harassment, to instances of unwanted and uncomfortable advances and messages allegedly received from Zaki. Those Zaki allegedly assaulted or harassed range from girls under the age of 18 to women in their early and mid-twenties in Egypt and abroad.
One account shared by a woman to assaultpolice details how after allegedly being raped by Zaki when she was 19-years-old, she was dismissed by her mother and forced to move to another country, abandoning her family, friends and life:
So I was 19 and he was 20 and the dumbass naive me fell in love with him…
I was attached to him. He kept telling me personal things and he was sharing things with me I thought I was special so I did the same things and told him things I shouldn't…
One day I was at a friend's house…he called me told me to send him the location he will pick me up because he needs someone to talk to and he sounded like he was crying so of course I did what he asked.
Then he took me to his compound. I thought maybe we will just hang there like usual but he drove me to his house I asked him what are we doing here he said the house is empty only the maid is there and I can [sic] still hear his voice telling me 'don't worry princess, I won't lay a hand on you'. I trusted him and went inside. He then started talking about an issue he been having and then he leaned in and kissed me, I kissed him back. He held me and took me to his room. I was really not thinking I was in love.
When I realized that we're in his room I panicked and started breathing really hard and I told him I need to leave and managed to get out of his room. He grabbed my hair and threw me on the floor. He unbuttoned my pants and I was shaking and crying and I always get panic attacks. I tried to scream but nothing came out.
When he took what he wanted I saw blood on my clothes I panicked and all he had to say 'go to your uncle now sl*t. You're not different than the other girls. Whore. Sl*t'. I left and I called my mom, I told her everything.
She didn't do anything. He then kept calling me and sending me messages, asking for a round 2 or else he would tell my family. I told him go for it. My mom knows.
He read the messages. Then my mom took my phone, laptop, made me delete all my social media accounts. And she made me move [location abroad] and now I'm all alone, without a family, my friends are mad at me because after the accident I pushed everyone away.
I see him everytime I look at myself in the mirror."
When did you create @assaultpolice?
I did not create it, but they cooperated with me to publish, collect and also translated the stories of the girls.
What do you think of the steps taken by the Egyptian prosecution, the police, and the National Council of Women against Zaki?
It is an extraordinary honor it is to see The National Council for Women support the campaign we launched against Ahmed Zaki, who has had tens and tens of girls come forward with assault claims since the beginning of the post was posted on Instagram.
The prosecution questioned four girls and a child who all filed reports against Zaki. They witnessed that he contacted them via social media and started engaging in dramatic experiences that he used to claim going through or seducing them until they agree to meet him and then rape them once they reach a safe place.
After a while he would recontact his victims and threaten them that he would expose them with footage and pictures that he captured while raping them.
He would also seduce girls into sending him nudes and later force them into meeting him and having sexual relations lest he exposes them.
The statement also said the prosecution interrogated Zaki who confessed meeting online with around six girls who sent him nude photos of themselves, which he used to threaten them later.
The statement also implored parents to build up trust with their children and raise them according to the good values of society and religion.
The prosecution also called upon citizens to respect the privacy of others and preserving the guidelines and good manners while using social media platforms and warned against sharing fake news.
What are your next steps in this case?
I will keep raising awareness among young women regarding their rights as well as possible legal support, promoting social cultures, with a focus on encouraging dialogue within families, and properly portraying harassers and harassment in media, we hope our efforts will help to reveal the truth and alleviate the suffering of the victims.
We also will continues to receive all testimonials against Zaki, and victims willing to come forward can contact the National Council of Women or message my Instagram account to be connected with lawyers.
Will you seek to establish an association to rehabilitate girls?
We have already started working now as a group, and many psychiatrists and psychotherapists and trainers joined us.