Writer's production is an objective testament to the positives and negatives of the rise and downfall of liberalism
Mustafa Bayoumi
My eyes opened to a house full of books. I only attempted to get near those books when I joined primary school. At this stage, none of the authors who penned the books on the shelves in front of me could invite my attention as Ibrahim Abdel Qadir al-Mazni did.
"A Spider's web" was the first of al-Mazni's books that I read in full. I keep reading the book over and over again until now. The more I read, the more I discover.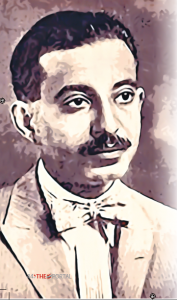 Al-Mazni's language is astonishing, yet easy and delicate. Some people might think they can easily mimic his writing style. Soon, however, they learn that this is far from possible.
None of Egypt's authors had a style more inimitably simple than his. He was full of bitterness, but always covered this bitterness with joy.
Al-Mazni's diverse and intense production went hand in hand with the 1919 revolution. He died three years before the July 1952 revolution. His production honestly mirrored the positives and negatives of the rise and downfall of liberalism.
Some people are trendsetters, but they rarely feature highly in history books. Many of the things we take for granted today, were unbelievable a century ago.
To me, as a critic, al-Mazni was ahead of his time. As a novelist and a short story writer, he did not have the chance to put on paper everything he knew. He stopped writing poetry, knowing that he could not challenge the rules and consequently would not present anything new.
To study al-Mazni seriously is to get to the extent of his knowledge. He had an outstanding knack for translation, having fathomed Arabic heritage and Western culture.
He stayed away from politics and its minefields, only coming close to it when he wrote for newspapers and he did this only to earn a living. He might have taken the wrong political side at times, but like all humans, he made mistakes.
I do not love Abbas Mahmud al-Aqad. He was egoistic, pompous and full of authoritarianism and debate. He could defend something and its contrast at one and the same time. Al-Mazni, al-Aqad's closest friend, was probably his largest victim.
The two were different. Al-Aqad was tall and huge. He had sharp features as if he was carved out of stone.
Al-Mazni was slim and short. He had, however, a strong will and a burning emotion, which made him strong. Al-Mazni was calm and sincere. I believe him. I spent a long time reading him as if I was sitting with a close friend.
He was a master of honesty and a hater of deception. Simplicity was his strongest weapon. He had a lexicon so rich that he did not need to borrow any words or expressions from the lexicon of others.
Al-Mazni suffered poverty and deprivation as a child, but this could not impinge on his self-esteem. His mother was strong and hard working. She was his role model. He was full of forgiveness, never bearing grudge. He translated his pains into bitter sarcasm.

His personal life was full of sadness and bad luck. He was close to people on the streets. He wrote for them and about them. He never lived in an ivory tower.
Death had never scared him. He lived by the cemetery for some time. He translated the following verses from German early on in his life:
You, visitor of my grave;
Read whatever is written in front of you;
Here you will find my bones resting,
They could have been yours.
His study about Ibn al-Rumi is comprehensive, deep and accurate, almost the best written about the poet whose name was associated with bad luck. He wrote with the same degree of clarity about Bashar, al-Mutanabi, al-Sharif and al-Rida.
Al-Mazni critiqued his contemporaries perfectly, although he did not receive enough acclaim. I love him for his glowing heritage that never fails to enliven one's heart and feelings. I also find myself a lot similar to him. Like al-Mazni, I am short and slim. Like him, I like to stay away from noise and do not like to fight.
Like him, I always say to myself: "I ordered my heart to crave knowledge, gave myself hope and had a lot of dreams, but ended up empty-handed".
"Empty-handed", "Spider's web", "Harvesting chaff", and "Out the window" are not mere titles of some of al-Mazni's books, but fascinating expressions of the philosophy of a rich life.
Al-Mazni died on the day he turned 60. He died as calmly as he lived. I dream of dying on my birthday like him. Certainly, this is not a decision that I can take.